Syarikat Sebangun Sdn. Bhd.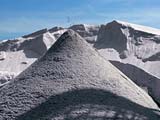 Being blessed with high quality of silica sand deposit, Sebangun's silica sand is now reputed to be one of the most sought-after raw materials by glass producers for the last three decades in the region. Sebangun's sand is also used for the production of glass products, sodium silicate, resin coated sand and ceramics tiles, the exporting countries by Syarikat Sebangun include Japan, Philippine, Taiwan, Indonesia and other Asian countries.
Since mid 90's, Sebangun shifted its sole dependancy on silica sand export to utilizing the major portion of the production for the local collaborating partners on sodium silicate and resin coated sand production. The valued added manufacturing processes are carried out within the same sand processing complex.
Track Record
Majority of our sand is being consumed by:
High grade Tableware producers
Bottle and glassware producers
Float glass producers
TV Tube Panel producers
Foundry Sand users
Ceramic ware producers
Maintaining high quality of our product with its consistency is the basic strength that sustains us in remaining competitive in this industry.
By nature, our silica sand's high quality together with our stringent quality control put us in position to supply quality and consistent silica sand in the industry.